Recently I decided to upgrade one of my routers and I begin my search. Number one requirement for my new router is compatibility with free open source firmware called OpenWrt. I wrote more about why you should use it here.
I don't want to buy expensive router for $200. About half of the price of such router are features that I can get for free from OpenWrt. Also, many these routers are quite powerful and hot, and my router will be in room that is not ventilated well and close to quite hot cable modem.
As result here is list of requirements for new router:
Price between $50-$90
It should not be hot
Minimum 16MB of flash. It is space is used for OpenWrt and any additional packages. The more flash you have the more stuff you can install. My current router has 8MB of flash and in some cases, it became limiting factor.
At least 64Mb of RAM, so I will not be limited by it now or in future
Gigabit ports because 100 megabits are not enough in 2019. My internet speed already is 200 megabits
Router should support WLAN 5.0GHz ac
Router should have USB port as I could use it to store some data. It is optional, but it is great to have because to save something permanently you have to write it to router's flash memory and it will wear. can replace USB flash drive, but I cannot replace flash inside of the router
Also, many vendors have different hardware versions of the same router. And some of versions are compatible with OpenWrt and some are not. But in Amazon it is really hard to identify which version of hardware will you get. Usually even sellers don't know what version they sell. Here is how box looking: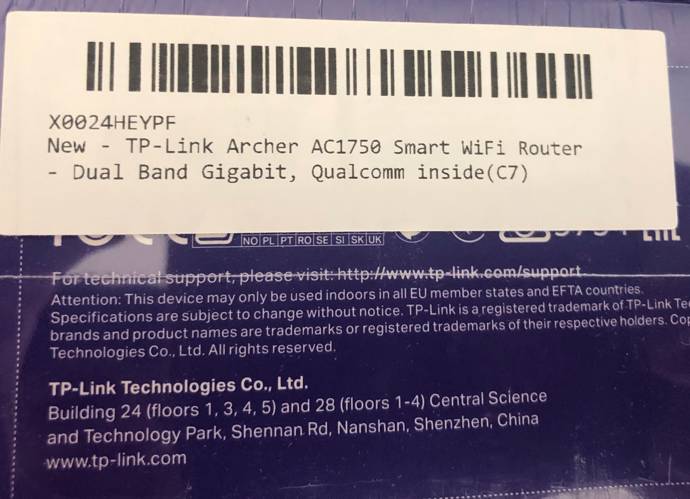 And here how it looks after removing protective plastic film: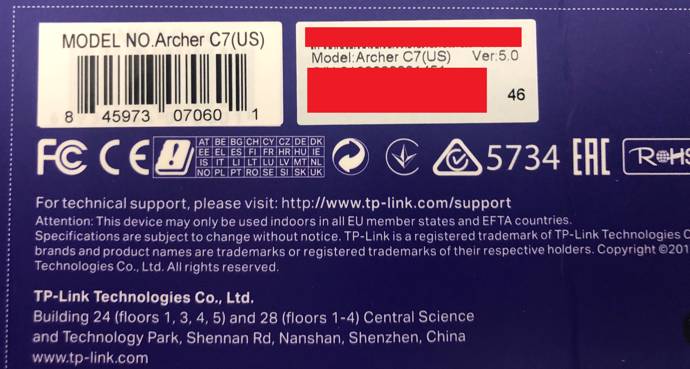 As you can see general product info covering necessary technical details. And also I believe that seller may have many hardware version available. Technically I can return router after unpacking it, but it doesn't feel right and there is hassle of return and ordering another one without guarantee that next one will be right. As result, last requirement would be that it should be possible identify hardware version or buy router with all hardware versions being compatible with OpenWrt.
And after some research I found router that I want: TP-Link Archer C7. It has everything in my list and even more. Here is link for more info: https://openwrt.org/toh/hwdata/tp-link/tp-link_archer_c7_v5 Also, previously I had good experience with TP-Link WDR4310 router. I bought it in 2012 in China and it still works just fine as my main router. After some testing new router will replace it and WDR4310 became secondary router that will replace some old Netgear router.
I ordered router from https://www.amazon.com/gp/product/B00BUSDVBQ for $89. I know it costs $79 but I did want it ASAP, so I paid $10 more because $79 version would be 10 days later.
Warning: this router has another name AC1750 but if you search by this name you can find AC1750 Archer A7. Archer A7 has many hardware versions that are not compatible with OpenWrt. In fact, I think only one version is compatible.
Detailed post about installing OpenWrt on this router is here.
If you interesting in unboxing post and pictures of this router is here.